The Magazine
City Journal's print magazine offers a stimulating mix of hard-headed practicality and cutting-edge theory, with articles on everything from school financing and policing strategy to urban architecture and public health policy—right at your fingertips.


---
City Journal App
Enhance your intellectual experience with our new City Journal app. Unlock early access to City Journal's print magazine content, save your favorite articles, browse by topic, tune in to the weekly 10 Blocks podcast, and more—all at your fingertips.
---
Email Alerts
Get incisive commentary delivered straight to your inbox to stay on top of the issues that matter to you most. Subscribing to City Journal's email is free and features short, op-ed style pieces on the news of the day.



By submitting your information, you agree to the terms of use as outlined in our Privacy Policy.
---
10 Blocks Podcast
10 Blocks, City Journal's weekly podcast hosted by editor Brian C. Anderson, delves into rich discussions on urban policy and culture with City Journal editors, contributors, and special guests.
---
Social Media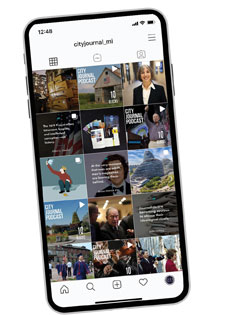 Whether scrolling through Twitter on your lunch break, catching up with Instagram on your commute home, keeping in touch with friends and family on Facebook, or curating your favorite articles on Flipboard, join us on social media. You can also find us on Parler and Gettr.
---
City Journal Online
If you love the magazine, you'll love City Journal online. Subscribe via iTunes, Android, or Flipboard to receive real-time commentary online. Accessing City Journal on-the-go from any device—at home, in transit, or at work—has never been easier.