Cities, noted René Descartes, should provide "an inventory of the possible," a transformative experience—and a better life—for those who migrate to them. This was certainly true of seventeenth-century Amsterdam, about which the French philosopher was speaking. And it's increasingly true of Texas's fast-growing metropolises—Houston, Dallas–Fort Worth, Austin, and San Antonio. In the last decade, these booming cities have created jobs and attracted new residents—especially young families and immigrants—at rates unmatched by coastal metropolitan areas. Approximately 80 percent of all population growth in the Lone Star State has been in the four large metropolitan areas since 2000. Texas now boasts two of the nation's five largest metros, the first time any state has enjoyed that distinction. At its current rate of growth, Houston could replace Chicago as the nation's third-largest city by 2030, and the Dallas–Fort Worth region could surpass Chicagoland as the nation's third-largest metropolitan area by the 2040s.
Historically, those who think and write about urban living have regarded Texas cities with disdain. The midcentury journalist John Gunther dismissed Houston, now the state's largest city, as a place "where few people think about anything but money." Gunther predicted that the area's population would eventually grow to a measly 1 million people. He was off by a bit: close to 7 million people now call the Houston metropolitan area home. Houston and the other flourishing Texas metros are neither downtown-focused like New York nor highly regulated and densely packed like Los Angeles. They aren't disproportionately brain-intensive or tech-oriented; and they aren't dominated by green politics and, generally speaking, strict planning. Though booming, they have kept living costs down. In all this, they differ from San Francisco, Seattle, Portland, Los Angeles, and Boston—places that may continue to thrive in the future but that show little interest in creating the economic opportunity and affordability that attracts aspirational middle- and working-class families. In short, Texas's cities are reshaping urbanism in America, albeit in ways few scholars or planners seem to appreciate.
Dallas's Recipe for Resilience
Most mayors bubble over with praise for new development, but that's not Dallas mayor Mike Rawlings's style. At an event launching a digital-innovation initiative for the city's West End in late June, the mayor praised the effort but then offered: "I don't want to worship at the altar of technology for technology's sake." He'd judge the work, he said, on how well it creates "a better quality of life" for residents. His point was hard to miss. Technology is great, but only if it addresses real problems. Otherwise, it's just a new expense.
Rawlings's comments offer insight into why Dallas has been an urban success story and will likely remain so, even in the aftermath of the massacre of five police officers in July. Yes, Dallas boasts a strong economy—even in an era of cheap oil, its unemployment rate fell to 3.5 percent in May—but more important, its pragmatism has fostered a collaborative civic culture focused on improving lives, not pursuing pet projects. In 2012, for example, Klyde Warren Park opened over a highway that cut through the city, changing the feel of the Dallas downtown by creating something crucial for urban life: common outdoor space. The park was made possible by $50 million in private donations, as well as public dollars. Other private dollars funded the Perot (a dynamic new museum that opened in 2012) and the George W. Bush Presidential Museum (opened in 2013). Each draws hundreds of thousands of visitors every year. (See "Big Philanthropy," Spring 2013.)
More change is coming. The Dallas Holocaust Museum is working on a new facility, and new residential units are breathing life into downtown, helping bolster the city's arts district. Bridges are going up across the Trinity River, which, along with new parks and other investments, will tie traditionally neglected South Dallas more closely to the city's core.
Dallas's secret sauce is its dynamic social-entrepreneur community. The metro area is home to nonprofits such as the American Heart Association, the Boy Scouts, and the AT&T Foundation. In total, the metro area has approximately 28,000 nonprofits, or about 42 for every 10,000 residents (Houston and San Antonio, by comparison, each have 35). Dallas's 501(c)3s alone control assets that exceed $50 billion. An array of charities does everything from helping local sex-trafficking victims to aiding veterans and others through horse therapy. The result? A powerful sense of community, exemplified in the moment, captured by CNN shortly after the police assassinations, when Black Lives Matter protesters and counterprotesters, along with a cop assigned to keep them apart, all joined together for a group hug and prayer.
Dallas has its challenges, hinted at by the mayor's reference to South Dallas as "the city's greatest untapped resource." But none of the elements that have propelled the city forward is going away. Unlike urban disturbances that emptied other cities decades ago, the horrors of July only seem to have strengthened the ties that bind Dallas together.
—Brendan Miniter
Brendan Miniter, editor of The 4% Solution: Unleashing the Economic Growth America Needs, is a member of the board of directors of the Dallas Holocaust Museum. Previously, he was a senior policy advisor at the George W. Bush Presidential Center.
Though some east/west coastal cities—notably, San Francisco—have enjoyed vigorous growth of late, none has been nearly as proficient in creating jobs in the new millennium as Texas's four leading metros. Overall, Dallas–Fort Worth and Houston have emerged as the nation's fastest-expanding big-city economies. Between 2000 and 2015, Dallas–Fort Worth boosted its net job numbers by 22.7 percent, and Houston expanded them by an even better 31.2 percent. Smaller Austin (38.2 percent job-base increase) and once-sleepy San Antonio (31.4 percent) have done just as well. New York, by way of comparison, increased its number of jobs in those years by just 10 percent, Los Angeles by 6.5 percent, and San Francisco by 5.2 percent, while Chicago actually lost net employment. And the Texas jobs are not just low-wage employment. Middle-class positions—those paying between 80 percent and 200 percent of the national median wage—have expanded 39 percent in Austin, 26 percent in Houston, and 21 percent in Dallas since 2001. These percentages far outpace the rate of middle-class job creation in San Francisco (6 percent), New York and Los Angeles (little progress), and Chicago (down 3 percent) over the same period.
The energy industry can take some credit for Texas's impressive numbers, but only some. In fact, despite assertions that dense coastal cities are the natural incubators of innovative tech firms, an analysis of the last decade and a half shows that Texas's sprawling metropoles are growing Science, Technology, Engineering, and Math (STEM) jobs more rapidly than the Bay Area—and far faster than New York, Los Angeles, and Chicago. Since 2001, STEM employment in Austin is up 35 percent, while Houston has increased these desirable positions by 22 percent and Dallas by 17 percent. STEM jobs have increased 6 percent in San Jose and 2 percent in New York over this same period. L.A. has seen no STEM growth; Chicago has lost 3 percent of such positions.
Recent Pew Research Center data give further evidence of the Texas urban boom. Among 52 American metropolitan areas with more than 1 million residents, San Antonio had the largest gain in its share of middle- and upper-income households—that is, the percentage of households in the lower-income category in the city actually dropped—from 2000 to 2014. Houston ranked sixth, Austin 13th, and Dallas–Fort Worth 25th in the Pew survey. The performance is even more impressive, given Texas's absorption of 1.6 million foreign-born residents since 2000, a 60 percent larger intake than California's, proportionate to the two states' populations.
All this dynamism reflects Texas urbanism's remarkable culture of opportunity. These are business-friendly cities. According to Site Selection magazine, executives consistently rank Texas as the best or second-best locale to do business in the United States. Taxes are among the lowest in the country. (New York has the heaviest tax burden; California isn't far behind and seems determined to catch up.) Regulations are light. Coastal urban areas often impose draconian climate-change rules or favor high density, thus discouraging industries like manufacturing, logistics, and home construction—all thriving under Texas urbanism's market-friendly reign.
"The consensus in San Antonio," observes former mayor and longtime Democrat Henry Cisneros, "is all about jobs. Everything is driven by that." One can say the same about the other big Texas metros. The jobs focus can be seen in the many corporate relocations and expansions in Texas, which are often large-scale, employing many middle managers—unlike highly publicized relocations of "executive headquarters" in cities such as Chicago, which frequently employ, at most, several hundred people. The recent movement of Occidental Petroleum from Los Angeles to Houston as well as transfers of jobs from Chevron—still headquartered in the San Francisco Bay Area, at least for now—alone represented some 2,000 jobs.
A key part of this opportunity culture rests on housing affordability. Property inflation plagues east/west coastal cities, largely because of restrictive planning policies that slow development, making the cost of living exorbitant. Texas cities are instead pro-development—"self-organizing," in the words of Rice University's Lars Lerup—and, as they happily expand their peripheries, they encourage a healthy supply of housing at all income levels. The inexpensive housing, a major draw for those relocating firms, has helped shift a long-standing migration pattern of jobs and people. In the last tech boom, more people moved from Texas to the Bay Area; in this one, it's the other way around. Last year, at least three dozen companies either expanded away from or moved out of Santa Clara, San Francisco, and San Mateo Counties—ten of them to Texas, according to a recent report by Spectrum Location Solutions, an Irvine business-consulting firm that tracks corporate "divestment" from California. When Toyota recently moved its headquarters from Los Angeles County to the Dallas area, for example, executives said that the L.A. area's rising housing prices—roughly three times what they are in Dallas–Fort Worth, adjusted for income—had much to do with it.
Dallas–Fort Worth might be the big metro that benefits most from this movement. The typical corporate expansions in the Dallas area—not just Toyota but also State Farm, Liberty Mutual, and Amazon—have included headquarters and back-office centers in the area's northern suburbs, creating thousands of jobs. As Southern Methodist University scholars Klaus Desmet and Cullum Clark found in a soon-to-be-published study, jobs are shifting from Chicago and surrounding areas to Dallas–Fort Worth in such numbers that the Texas city is increasingly poised to replace the Windy City as the business center of the mid-U.S.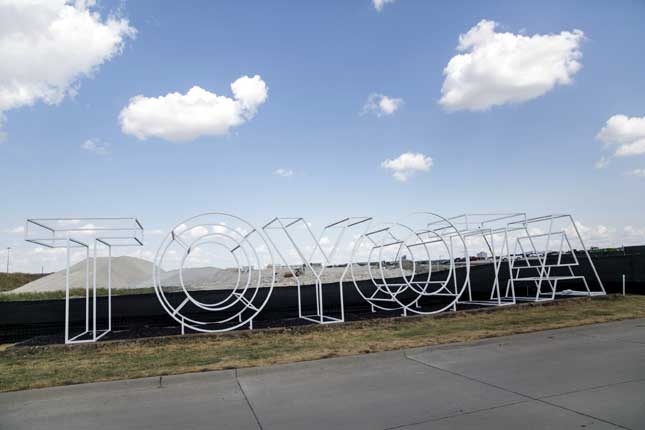 People are coming in droves. "Gone to Texas" or "GTT": the phrase became famous during the nineteenth century as Americans fleeing debts (especially after the Panic of 1837) headed to the Lone Star State to escape impoverishment or even prison. Texas also attracted the ambitious, the desperate, and, in some cases, the downright dishonest. The phrase may become popular again. Over the last decade and a half, Texas's four major cities ranked among the nation's ten fastest-growing large metropolitan areas. Since 2000, Dallas–Fort Worth has boosted its population by 33.6 percent; Houston did even better, expanding 38 percent. Boston, Chicago, Los Angeles, and New York, by comparison, grew less than 10 percent over that period. Last year, Houston and Dallas–Fort Worth each gained more people than New York or L.A.
The domestic migration numbers are truly striking. Over the past 15 years, Houston and Dallas–Fort Worth have gained an estimated 1 million domestic migrants, even as New York lost more than 2.4 million net migrants, L.A. bled 1.5 million, and Chicago 800,000. As a percentage of the population, the Texas cities averaged a 1 percent net migration gain annually; Chicago, L.A., New York, and San Francisco have seen strong net losses annually. San Antonio and Austin have also been gaining migrants at a rapid rate. In fact, Austin has attracted more newcomers as a percentage of its population than any major metropolitan area in the country since 2000. Texas Monthly calls it "the city of the eternal boom."
Many of the new Texas urbanites are arriving from places—above all, California—to which Texans had once migrated. Between 2001 and 2013, more than 145,000 people, net, have moved from the greater Los Angeles area to Texas cities, while more than 90,000 have come from New York and nearly 80,000 from Chicago. The newcomers are better educated than the average Texan, and they elevate the quality of the workforce, observes Dallas Morning News columnist Mitchell Schnurman. "If oil prices don't go up, Texas can always count on California—and New York, Florida, Illinois, and New Jersey."
The domestic migrants' numbers include many blue-collar workers seeking a better future, so the migrants' average education level falls slightly below that of people moving, say, to Boston or San Francisco. But the Texas metropoles are increasingly attractive to the young, educated workers who often flock to those coastal cities. According to a recent Cleveland Foundation study, three of the four major Texas cities ranked among the top-ten regions nationally in the growth in educated residents aged 25 to 34. The migrants' imprint is evident in the expanding urban amenities of Texas cities, including a vibrant restaurant scene and innovation in the arts.
Affordability is a major draw for these younger newcomers. The ten regions losing the most millennials last year, according to Trulia, include Chicago, New York, Washington, and the area along California's coast—all much pricier than the Lone Star State. More than 30 percent of millennials still live at home in Los Angeles and New York City, according to Zillow data, more than one-third higher than the rate in Dallas and Houston.
I love booming cities. Cranes, construction zones, motion, ideas, start-ups, new restaurants, verve, bad traffic: these have been hallmarks of pretty much everywhere I've lived over the past two decades and more. I moved to Atlanta during its 1990s boom years and enjoyed its great neighborhoods. Washington, D.C., my home for seven years, is a recession-proof Leviathan. A few years in London—in my opinion, the world's greatest city—inspired in me daily the sense that anything is possible (except affording a flat there larger than 900 square feet for my family of four). Heidelberg and Stuttgart combined the old (castles and such) with the new (STEM-powered economies) to offer more dynamism than one usually finds in Europe. Downtown Indianapolis, surprisingly more Sun Belt than Rust Belt, set the record for the number of breweries (six!) that I could reach by foot. Chicago forgot long ago how to be a boomtown and has been losing people ever since, but the Windy City was impossible not to love.
Now I live with my family in Austin, a place that booms like nowhere else right now. Of Texas's four largest urban economies, Austin's has the least to do with petro-wealth. It has managed instead to blend its history as a funky music-and-college town, friendly to outsiders, with a technology-centric economy feeding off imported talent. Since 2000, its population has exploded by more than 60 percent. We live in a downtown high-rise and rarely ride the elevator with anyone originally from Texas. Young people are moving to Austin with nothing lined up and quickly getting jobs as software engineers at this or that tech company. High-tech workers represent about a quarter of the labor force, with average annual salaries above $100,000. Austin is basically at full employment and has had one of the nation's fastest job-growth rates for years. A local poll shows that, even as Austinites grumble about the traffic, most regard the newcomers as a positive thing.
Of the cities I've called home, Austin has the most aspirational culture. People move to Washington, for example, to change the world, and often do so—for the worse. People come to Austin to build something new, earn their success, and have fun. Visit any one of the city's coffeehouses, and new rounds of funding and pitches are in the air. Drive or bike anywhere on a weekend, and you'll likely run into a festival that you had no idea was happening. Our zip code has more bars per capita than any other in the nation. Many are indoor-outdoor, which gives Austin a festive, public feel. Voices, music, and faces are all integral to the urban landscape here.
Such vitality helps explain why Austin now has more 25–34-year-olds than the San Jose metro area, which is basically Silicon Valley. Austin's laid-back irreverence attracts artists, techies, entrepreneurs, and university types. But it also offers families a variety of neighborhoods, along with comparatively good schools, from the urban core to far-flung exurbs. It's a polycentric city of districts, with housing options close to amenities that one might consider urban, even if they're suburban in location.
Dysfunction among California's ruling class has been great for Austin. So has the high-cost urbanism of New York, Boston, and Washington, which, along with San Francisco and San Jose, have sent more people to Austin over the past 20 years than Austin has sent to them.
A local once told me that he worried that the new arrivals would infect Austin with their bad ideas. I don't worry too much about that. Creative, energetic people wanting more freedom and a greater share of their paychecks sound like they belong here. Besides, give them a little time, and I'll bet that they'll be more at home here than they were where they came from. Austin seems to work that effect on almost everyone.
—Ryan Streeter
Ryan Streeter is executive director of the Center for Politics and Governance at the University of Texas at Austin.
Texas is also drawing massive migration from overseas. Like the young migrants crowding the clubs and hip eateries of the Texas boomtowns, the foreign-born are, in their own ways, transforming the economy and culture of the state. Asian immigrants, barely present before 2000, have been the fastest-growing group. Over the last decade, Houston and Dallas–Fort Worth had a larger increase in their Asian populations (including Chinese, Indians, Vietnamese, and Koreans) than all but three American cities—New York, Los Angeles, and San Francisco. Houston now has the fifth-largest Asian population among the nation's major metropolitan areas.
Much of this growth isn't taking place in traditional "Chinatowns" or even in core cities but instead in the less expensive suburban and even exurban areas. More than 95 percent of the expansion of Dallas–Fort Worth's Asian population and 85 percent of Houston's, for instance, has occurred in the suburbs. A Rice University study found Fort Bend County, southwest of Houston, the most ethnically diverse county in the nation: 36 percent white, 24 percent Latino, and more than one-fifth black, Asian, or other ethnicity. The county is home to one of the largest Hindu temples in America.
In fast-growing Cinco Ranch, a suburb built on an expanse of Texas prairie 31 miles west of Houston, one in five residents is foreign-born, well above the Texas average. "We have lived in other places since we came to America ten years ago," says Indian immigrant Pria Kothari, who moved to Cinco with her husband and two children in 2013. "We lived in apartments elsewhere in big cities, but here we found a place where we could put our roots down. It has a community feel. You walk around and see all the families. There's room for bikes—that's great for the kids."
Over the last two decades, Texas's big cities have also received a huge infusion of immigrants from Latin America. Between 2000 and 2014, the Latino population of Dallas–Fort Worth grew 39 percent, while Houston's expanded 42 percent, Austin's 60 percent, and San Antonio's 39 percent. Texas's population is already nearly 40 percent Latino, a percentage likely to increase in the years ahead.
Much of this rapid demographic shift stems from, again, Texas's opportunity urbanism. Though many of the newcomers—along with "Tejanos," native Texas Latinos—are poor and often not well educated, they're much better off economically than their counterparts in New York, Los Angeles, or Miami. Texas's vibrant industrial and construction sectors, in particular, have provided abundant jobs for Latinos. In 2015, unemployment among Texas's Hispanic population reached just 4.9 percent, the lowest for Latinos in the country—California's rate tops 7 percent—and below the national average of 5.3 percent.
Texas Latinos show an entrepreneurial streak. In a recent survey of the 150 best cities for Latino business owners, Texas accounted for 17 of the top 50 locations; Boston, New York, L.A., and San Francisco were all in the bottom third of the ranking. In a census measurement, San Antonio and Houston boasted far larger shares of Latino-owned firms than did heavily Hispanic L.A.
In Texas, Hispanics are becoming homeowners, a traditional means of entering the middle class. In New York, barely a quarter of Latino households own their own homes, while in Los Angeles, 38 percent do. In Houston, by contrast, 52 percent of Hispanic households own homes, and in San Antonio, it's 57 percent—matching the Latino homeownership rate for Texas as a whole. That's well above the 46 percent national rate for Hispanics—and above the rate for all California households. (The same encouraging pattern exists for Texas's African-Americans.)
California and Texas, the nation's most populous states, are often compared. Both have large Latino populations, for instance, but make no mistake: Texas's, especially in large urban areas, is doing much better, and not just economically. Texas public schools could certainly be improved, but according to the 2015 National Assessment of Educational Progress—a high-quality assessment—Texas fourth- and eighth-graders scored equal to or better than California kids, including Hispanics, in math and reading. In Texas, the educational gap between Hispanics and white non-Hispanics was equal to or lower than it was in California in all cases.
Though California, with 12 percent of the American population, has more than 35 percent of the nation's Temporary Assistance for Needy Families welfare caseload—with Latinos constituting nearly half the adult rolls in the state—Texas, with under 9 percent of the country's population, has less than 1 percent of the national welfare caseload. Further, according to the 2014 American Community Survey, Texas Hispanics had a significantly lower rate of out-of-wedlock births and a higher marriage rate than California Hispanics.
In California, Latino politics increasingly revolves around ethnic identity and lobbying for government subsidies and benefits. In Texas, the goal is upward mobility through work. "There is more of an accommodationist spirit here," says Rodrigo Saenz, an expert on Latino demographics and politics at the University of Texas at San Antonio, where the student body is 50 percent Hispanic. It's obvious which model best encourages economic opportunity.
Texas urbanism is also producing the next generation of urbanites. Increasingly, the dense urban cores of America's favored cities—New York, San Francisco, Seattle, Los Angeles, and so on—are becoming child-free, or child-scarce, zones. (See "The Childless City," Summer 2013.) The trend is powerfully visible in San Francisco, a city with reportedly 80,000 more dogs than kids.
In Texas cities, the situation is strikingly different. According to American Community Survey data, the four big Texas cities all rank above the national average and in the top 15 of the 50 major American metropolitan areas in children per household. Houston ranks third, Dallas–Fort Worth fourth, San Antonio fifth, and Austin sixth. New York is 31st and San Francisco 45th. Like cities throughout history—think of the Chicago described in Saul Bellow's Adventures of Augie March—Texas cities appeal to people at every stage of their lives, not just when they're young and unencumbered.
By allowing the market to work, these expanding urban areas offer vibrant inner cities, where young singles and couples can congregate, as well as affordable nearby neighborhoods for families and the middle-aged and elderly. A Texas urbanite doesn't have to contemplate the choice of staying in the city that he or she loves or having a family. How many San Franciscans or New Yorkers can say the same?
In part because of their rapid growth, Texas's cities face numerous challenges. One is worn-out infrastructure, as seen in recent Houston flooding. Poverty levels for Hispanics and blacks are still high in the Texas boomtowns. Urban schools in Texas require major redress. Municipal debt, particularly in the core cities, is mounting.
The biggest threat, however, is that Texans will decide—particularly as more residents arrive from the liberal coastal cities—to abandon the culture of opportunity behind their cities' remarkable success. Market-oriented zoning policies and pro-business regulatory and tax environments are part of what has made Texas's urban areas private-sector dynamos and magnets for the aspirational. If Texas stays true to what has made it great, Lone Star cities will continue to shine as the new exemplars of American urbanism.
Top Photo: Construction of the new I-35W bridge outside Forth Worth symbolizes the rapid growth of Texas's major cities. (Max Faulkner/Fort Worth Star-Telegram/AP Photo)