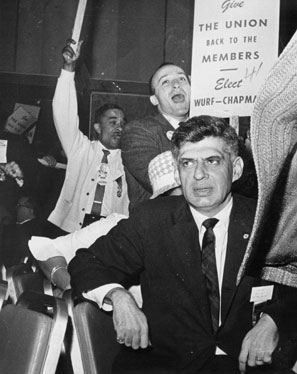 Over the past few years, Chicago mayor Rahm Emanuel has enraged public-sector unions by closing failing public schools and calling for pension reform. The head of the American Federation of Teachers, Randi Weingarten, went so far as to offer a local labor official $1 million in union campaign support to take on Emanuel, up for reelection in February. But private unions have a different view of the mayor. Building-trades groups like the Construction and General Laborers' District Council have benefited from his infrastructure spending and have donated heavily to his reelection, while the hotel workers' union, Unite Here, has openly endorsed him for boosting Chicago tourism. "There's a lot of support I have from working men and women," Emanuel retorted last year when asked about the public-sector-union opposition to his mayoralty.
Chicago's labor rift isn't unique. The goals of public and private unions are diverging. Government employees, determined to hold on to their pay and benefits, are fighting to defeat political leaders and candidates advocating fiscal reforms, such as limits on tax increases. Private unions, by contrast, see the nation's sluggish economic growth as a threat to their members and are increasingly encouraging politicians to focus on private-sector job creation. The disastrous debut of Obamacare and the ever-tighter alliances between public unions and the Democratic Party's antigrowth factions—especially environmentalists—have further alienated private-sector labor leaders. These disputes have roiled Democratic primaries and even pushed some labor groups into the arms of Republican candidates. The face-off among labor groups could have significant long-term consequences if it becomes a struggle for the future of the Democratic Party—and judging by the battles among labor groups in last year's elections, that struggle may be under way.
Today's labor divide is actually a new twist on older conflicts. Decades ago, when public-sector workers first began to push for the right to organize, many private labor leaders were skeptical that collective bargaining could work in government employment; government officials tended to agree. Unionized public workers, they felt, could easily hold the public hostage. One consequence of that widespread attitude was the exclusion of public employees from many early federal labor laws, including the 1935 Wagner Act, which gives private workers the right to organize and bargain collectively. In an oft-quoted 1937 letter, President Franklin Delano Roosevelt explained to an angry Luther Steward, president of the National Federation of Federal Employees, that, while it was acceptable for federal workers to organize into associations or trade groups to represent their interests, "All Government employees should realize that the process of collective bargaining, as usually understood, cannot be transplanted into the public service."
By the late 1950s, however, AFL-CIO boss George Meany and some other prominent labor leaders had reversed course. Giving government workers the right to bargain collectively, they now contended, would strengthen labor's clout. Labor promoted—and swiftly achieved—collective bargaining for government workers in states and municipalities across the country. But that success soon proved a double-edged sword. Meany had worked hard to convince the American public that organized labor had no interest in big government, since an expanded state wouldn't help unionized workers, who had traditionally worked in the private sector. Now he had a faction within the labor movement that did benefit from big government—and that lobbied continuously for it. The government-worker strikes that spread in the 1960s distressed Meany, while some of his AFL-CIO lieutenants treated government-union leaders like Jerry Wurf—the controversial head of the American Federation of State, County and Municipal Employees—with open contempt. Several years after Wurf joined the AFL-CIO's executive council in 1969, one member of Meany's inner circle described him publicly as a "loner," often far to the left politically of the rest of the council (the American socialist Norman Thomas was one of Wurf's heroes, for example, while Meany was an anti-Communist). Wurf admitted to the New York Times that he frequently was outvoted 25-to-1 on the council.
Private and public unions had strikingly different visions of the role of government. Meany spoke of tax cuts, for instance, as a way to galvanize the economy. In 1962, in fact, the AFL-CIO presented President John F. Kennedy with a plan to slash taxes by $9 billion. By contrast, AFSCME under Wurf viewed anything that might reduce government revenues with suspicion. The union even mounted an intense, though unsuccessful, campaign to shoot down California's 1978 tax-limitation ballot measure Proposition 13, viewing it as a direct attack on funding for public-worker jobs. Many private-union workers liked Prop. 13 because rising taxes were draining their wages, and AFSCME's campaign rankled AFL-CIO leaders. One told the Washington Post that Wurf's "big problem with the tax thing lies in convincing the rest of the trade union movement of the legitimacy of the positions he has taken." As one of Meany's colleagues grumbled, "Wurf has to become a part of the trade union movement."
The waning of industrial unions and the concurrent rise in the influence of government unions since the 1970s have profoundly changed organized labor's balance of power. When Meany retired, private-sector-union workers outnumbered organized government workers by three to one. These days, unionized government workers are roughly equal in number to their private-sector counterparts. Public-union bosses now occupy some of the labor movement's top positions.
Though former United Mineworkers president Richard Trumka now heads the AFL-CIO, his immediate predecessor, John Sweeney, earlier led SEIU, a labor group that started out organizing workers in private industry but transformed itself into a prominent player in government organizing. (And even Trumka's UMW now represents government public-safety officers, corrections officers, educational employees, and other government workers.) Government unions now dominate the AFL-CIO. Call it Wurf's revenge.
The new balance has brought a marked change in labor's ideological orientation. Meany and his contemporaries lobbied for worker rights and benefits while also believing in American exceptionalism, pro-growth economic policies, and conservative social values. Union hard hats, it's worth remembering, formed a counterweight to the college students protesting the Vietnam War, and the AFL-CIO was long a stalwart in the fight against Communist tyranny. The contemporary AFL-CIO not only pushes for big government; it also embraces a range of other liberal causes, from environmentalism to gay marriage. In this, it mirrors the politics of public-sector unions generally.
A struggling economy and blown-out state and local budgets, burdened with heavy government-worker costs, have brought to the surface the old enmity between private and public unions. Nowhere has this been more visible than in New Jersey. In 2006, as a budget crisis rocked the state, Democratic state senator Stephen Sweeney, an ironworkers'-union official, declared that public employees should take a 15 percent pay cut to prevent looming tax hikes. "My guys haven't gotten a raise in two years because their entire raise went to their health and pension costs," Sweeney complained. "New Jersey has a government that we can't afford any longer." A union war of words ensued, with one public-sector labor leader likening Sweeney to a "right-wing Republican."
Tensions simmered for years, in part because then-governor Jon Corzine, also a Democrat, refused to ask government workers for significant concessions, even as New Jersey taxes soared. In 2011, Sweeney and other Democratic state legislators who also were private-union officials voted for a bill, promoted by new Republican governor Chris Christie, that scaled back government-employee benefits. Later that year, the state's AFL-CIO refused to endorse the private-union officials for reelection. Representatives of building-trades unions stalked out of the AFL-CIO endorsement meeting in protest.
The controversy reverberated in New Jersey's 2013 gubernatorial race. Some two dozen private unions endorsed Christie for reelection, shunning his Democratic opponent, State Senator Barbara Buono; public-sector unions aggressively opposed Christie. Private-union leaders liked the way Christie had restrained tax increases and restarted job growth. In its endorsement of the governor, one New Jersey local of the International Brotherhood of Electrical Workers noted that, between 2001 and 2009, the number of hours its members worked had declined more than 50 percent, to 3 million—but during Christie's tenure had rebounded by about 1.5 million annual hours. "Our men love him," the local's business manager, Patrick Delle Cava, said. A CNN exit poll on the election, which Christie won with 60 percent of the vote, showed that he did well among voters in union households, capturing 46 percent of their ballots.
Similar labor conflicts erupted in 2014 races in several states beset by fiscal woes. The Democratic gubernatorial primary in debt-ravaged Rhode Island became particularly venomous. As state treasurer, Gina Raimondo had won a national reputation engineering an ambitious overhaul of government pensions in 2011, leading her to seek the Democratic gubernatorial nod. She squared off against two primary foes, both banking on support from government-worker unions: Providence mayor Angel Taveras; and Clay Pell, grandson of former U.S. senator Claiborne Pell. The state's largest government union, the Rhode Island affiliate of AFSCME, endorsed Taveras, while the powerful state chapter of the National Education Association backed Pell. But Raimondo won the primary, with help from more than a dozen blue-collar labor groups, chief among them the Rhode Island Building Trades Council, which loved her idea of an infrastructure bank to spur investment in a state with the nation's third-highest jobless rate. Their allegiance proved crucial when Taveras's campaign charged that Raimondo's pension overhaul had benefited Wall Street money managers but harmed government workers. "Stop lying about Gina," the head of the building-trades group said in a statement.
The labor brawling in Rhode Island went beyond the gubernatorial primaries. In the general election, the AFL-CIO refused to endorse Raimondo or her running mate, lieutenant governor candidate Daniel McKee, because he was a proponent of charter schools—anathema to the state's teachers' union. The unions were furious that a national organization favoring charter schools, 50CAN Action Fund Inc., had run a pro-McKee ad blitz in the Democratic primary, helping him beat their preferred candidate. Raimondo ultimately won but with only 41 percent of the vote in a four-way race, undercutting her mandate to govern.
Public-sector unions were victorious in the internecine labor war in Hawaii, resulting in the unprecedented defeat of a sitting governor in the state's 2014 Democratic primary. Neil Abercrombie had won Hawaii's 2010 gubernatorial election with 58 percent of the vote, thanks in part to endorsements from key public unions, including the Hawaii State Teachers Association. But after he took office, several of his policies angered government labor groups, especially teachers. First, Abercrombie reduced teachers' pay 5 percent after contract negotiations hit an impasse in 2011. Then, he floated a proposal to extend free preschool to thousands of Hawaiian four-year-olds but included in his plan public funds for private preschools to offer some of the services—a major no-no for the teachers' union. The controversy rocked the 2014 Hawaii Democratic Party state convention, with Abercrombie foes sponsoring a divisive resolution, which failed narrowly, calling for public money to go only to public schools. The teachers' union backed State Senator David Ige in his insurgent campaign against Abercrombie.
Meantime, however, some of the state's most significant private unions, which make up 15 percent of its private labor force, endorsed the incumbent. The largest private union in the island state, the 18,000-member International Longshore and Warehouse Union, cited Abercrombie's support for Hawaii's tourism and shipping industries in giving him its seal of approval. It wasn't enough. In a state with 55 percent of government workers unionized, Abercrombie went down to defeat, with Ige pulling 66 percent of the primary vote and winning the general election in November.
A labor split has also tarnished New York governor Andrew Cuomo's political reputation. With the AFL-CIO's help, Cuomo trounced upstate Republican Carl Paladino in the 2010 gubernatorial race. In his first term, he achieved modest fiscal reforms, including a cap on property-tax increases and reductions in pension formulas for new workers, while pushing for statewide evaluations of teachers and defending charter schools—moves that enraged public unions. The New York State Teachers Association, the Civil Service Employees Association, and AFSCME declined to endorse Cuomo for reelection, prompting the state's AFL-CIO to withhold its approval, too, though building-trades groups within that organization fought to back the governor again. Cuomo was expected to win the primary easily against political unknown Zephyr Teachout, but she racked up endorsements from several public-sector unions, among them the 56,000-member Public Employees Federation, and made the race competitive. Cuomo defeated Republican Rob Astorino easily in November, but turnout was low, particularly in the Democratic stronghold of New York City, as public unions stayed home. Further, Republicans scored wins upstate, capturing a state senate majority that will enable them to play a more significant role in Albany. The head of the state's Working Families Party, a largely public-union operation, blamed Cuomo for the Republican advances.
Rise of the Public-Sector Greens
No-growth environmentalists wield increasing might within Democratic circles. This has angered private unions, whose members benefit from a healthy private economy. It has also put private unions at odds with government unions, which have joined the Greens in calling for policies that vaporize blue-collar jobs. Still smarting from the fall in trades jobs after the collapse of housing and commercial construction during the financial crisis, some trade-labor groups have started to fight back.
In 2013, New Jersey's Democratic gubernatorial nominee, Barbara Buono, a state senator, worked to secure the endorsements of prominent Green groups. She promised that, if elected, she would enroll the state in the Regional Greenhouse Gas Initiative, dedicated to lowering CO2 emissions. Among her eventual supporters: the Sierra Club and the Environmental Federation. This promise troubled blue-collar unions in the state, to put it mildly. "They are the two biggest enemies of any construction worker not only in the state of New Jersey but in the entire United States," one private-union leader told the Newark Star-Ledger. Many Jersey trade unions supported incumbent Republican governor Chris Christie; all the major public unions backed Buono.
The Keystone XL pipeline is another source of tension. At the height of the pipeline debates in 2012, the BlueGreen Alliance, a coalition of unions and environmental groups that formed to lobby for alternative-energy projects, came out strongly against the pipeline. This upset the Laborers' International Union of North America, which quit the alliance. The union's president, Terry O'Sullivan, blasted the other coalition members. "Unions and environmental groups that have no equity in the work have kicked our members in the teeth," thundered O'Sullivan. "And anger is an understatement as to how we feel about it."
Among the major public unions lining up against Keystone: the American Federation of Teachers, the Communications Workers of America (which represents state workers in several places), and the Service Employees International. Even the AFL-CIO has withheld its support for the pipeline, upsetting the labor giant's building-trades section. A dozen or so of the AFL-CIO's member groups are public-sector unions. As one labor leader told The American Prospect magazine in 2013, "In my 43 years in the labor movement, I can't recall another time that AFL-CIO has remained neutral on any jobs program." More recently, AFL-CIO president Richard Trumka tried to placate blue-collar workers by talking favorably about Keystone's job-generating potential, but the union confederation has yet to endorse it.
Public unions are also saying no to fracking, a technique of oil and gas extraction that has already created hundreds of thousands of jobs and lowered energy costs in many states. In California and New York, two states with substantial deposits of shale oil and gas, powerful local chapters of AFSCME have joined with environmentalists to keep fracking at bay. Even in Pennsylvania, where fracking has increased pay substantially for energy workers and boosted the economy substantially, the Communications Workers of America has called for an end to the practice.
Last year, a coalition of business and labor groups backed California Proposition 1, which raised $7 billion through a bond offering to invest in the water systems of the drought-plagued state. Though a few environmental groups supported the measure, most opposition to it came from Greens, who argued that the state needs to focus more on conserving water than on creating a new era of "big dams." Joining the opposition, too, was California's AFSCME District Council 57—making the union anti-fracking, anti-Keystone, and anti-waterworks. Environmentalists couldn't hope for more from public workers.
Desperate for jobs, some blue-collar unions have begun to look across the aisle toward Republican candidates, especially as the influence of antigrowth environmental groups within the Democratic Party has grown. This trend has become starkly visible in Wisconsin. Governor Scott Walker's 2011 bill, Act 10, reduced collective bargaining rights for many public-sector workers, making him AFSCME's Number One target in the 2014 elections. Among other efforts to boost the economy, however, Walker signed legislation that streamlined mining regulations, hoping to encourage outside investment. Every Democrat in the Wisconsin legislature opposed the bill on environmental grounds, but blue-collar unions like the Wisconsin Pipe Trades and the Milwaukee Building and Trades Council recognized its potential to create jobs for their members, and got behind it. When Walker called for the changes during his 2013 State of the State address, more than a dozen blue-collar workers stood behind him on the stage. Several trade unions, including those representing pipe fitters, carpenters, and heavy-equipment operators, later contributed financially to Walker's 2014 campaign. One trade-union leader, asked about allying with a governor who had reduced bargaining rights for government employees, noted that asking public workers to pay a bit more for health care and pensions wasn't comparable with how his members had suffered in the dismal economy. "We lost our jobs," said Lyle Balistreri of the Milwaukee Building and Trade Council. "We suffered 30 percent, 40 percent, 50 percent unemployment in many areas of the state." Walker wound up winning an impressive victory against Democratic challenger Mary Burke; even more telling, exit polls found that, three years after Act 10, 52 percent of Wisconsin voters had an unfavorable view of government unions.
In Ohio, Republican governor John Kasich infuriated public unions in early 2011 by signing Senate Bill 5, which, like Walker's Act 10, revoked collective bargaining rights for government workers. Public unions then led a furious—and successful—ballot-initiative campaign to overturn the legislation, handing Kasich a crushing defeat later that year. Emboldened, the AFL-CIO put Kasich on a list of Republican governors it targeted as vulnerable in 2014. But Kasich's pro-growth agenda, which included a boost in infrastructure spending, won over some private-sector unions, especially since it appears to have worked: Ohio's unemployment rate, 10.3 percent in 2009, had plunged to 5.6 percent by 2014. Several blue-collar unions, including the Ohio State Building and Construction Trades Council, which represents 90,000 trade workers, poured money into the governor's campaign, though they stopped short of making official endorsements. Kasich ultimately cruised to victory, winning a majority of votes in union households.
A public-private union rift affected last year's Pennsylvania gubernatorial race, too. Government unions wanted to turn out the incumbent Republican governor, Tom Corbett, who proposed privatizing unionized state liquor stores while refusing to raise taxes to pay for more education spending. But Corbett ardently promoted hydraulic fracturing, or fracking, which has generated some 15,000 oil and gas jobs in Pennsylvania and boosted wages in the energy sector by more than one-third, to nearly $83,000, according to a 2014 Bureau of Labor Statistics report. By contrast, the Democratic gubernatorial candidate, Tom Wolf, called for a fracking tax and received donations from hedge-fund manager Tom Steyer, who has spent millions to limit fossil fuels. (See "Well-Heeled and Wrongheaded in California," Summer 2014.) A number of private-sector union groups, including the Laborers' District Council of Western Pennsylvania and the Pittsburgh-based Boilermakers Local 154, whose 2,300 members often work on energy-sector projects, endorsed Corbett, who "kept his promise to fight for Pennsylvania jobs," in the words of the head of the boilermakers. Some private unions even invited Corbett to appear at the Pittsburgh Labor Day Parade, where national AFL-CIO president Richard Trumka was guest of honor; embarrassed organizers eventually disinvited the governor. When Corbett became the only incumbent governor to lose a reelection bid in 2014, the future of fracking in Pennsylvania was left uncertain.
The issues splitting public and private labor groups in state races have begun to fracture national labor politics. At the August 2013 AFL-CIO quadrennial convention in Los Angeles, for example, Trumka called for reenergizing the labor movement by allowing nonlabor groups that he sees as allies, such as environmentalists, into the organization. But the thought of the president of the Sierra Club, an organization that has tried to kill job-creating enterprises like the Keystone XL pipeline and hydraulic fracturing, serving on the AFL-CIO executive committee "drove some building trades leaders batty," as one journalist reported.
Blue-collar unions broke with government-worker groups over several issues at the meeting. Obamacare was a major source of tension. Just weeks before the convention, the heads of three influential private unions, including the Teamsters, fired off a letter to Democratic congressional leaders, saying that labor's support of the Affordable Care Act has "come back to haunt us." They noted that Obamacare incentivized employers to reduce employees' work hours and that it kept workers with joint employer-union nonprofit health-insurance plans from qualifying for government insurance subsidies. "We can no longer stand silent in the face of elements of the Affordable Care Act that will destroy the very health and well-being of our members," the letter declared. Other private unions criticized Obamacare's so-called Cadillac tax on costly health-insurance plans; some union workers still enjoy these expensive policies. Trade-union groups drafted a resolution asking Congress to amend or repeal the ACA. In the end, the AFL-CIO toned it down, describing the law in its current form as "highly disruptive" but not calling for repeal. But one group, the 40,000-member International Longshore Warehouse Union, bolted the AFL-CIO over Trumka's refusal to denounce the Cadillac tax.
In a sign of battles to come, trade-union groups at the 2013 meeting called for AFL-CIO member unions to engage in more bipartisan political action and to seek "greater political independence." The trades have become especially restive over public-sector unions' monolithic support for Democratic candidates. In the 2014 election cycle, the American Federation of Teachers gave $1.7 million to 202 Democratic congressional candidates and $5,000 to one Republican. AFSCME contributed nearly $1.5 million to 195 House Democratic candidates and to 26 Senate Democratic contenders, as well as $6,000 to three Republicans. The American Federation of Government Employees contributed $525,000 to 178 Democrats and $41,750 to 19 Republicans. These figures are part of a long-running pattern. Since 1990, according to the Center for Responsive Politics, the AFT has given $34.5 million to Democrats and $308,250 to Republicans. AFSCME contributed $51.4 million to Democrats and $643,655 to Republicans over those years, while AFGE spent $7.8 million on Democrats and $390,552 on Republicans.
By contrast, in 2014 congressional races, the Carpenters and Joiners Union, which led the charge within the AFL-CIO for a more bipartisan approach, contributed $418,000 to 46 GOP candidates and more than $1 million to 150 Democrats. The Operating Engineers Union contributed $1.4 million to 213 Democratic congressional candidates and $425,000 to 51 Republicans. Other blue-collar unions are following suit. The New Jersey Building and Construction Trades Council, a labor umbrella group, touted its endorsement of four 2014 GOP congressional candidates as part of a "commitment to a broad, bipartisan approach to solving our nation's economic problems."
This inter-labor division, serious as it is, may not drive private-union workers into the arms of the Republican Party in large numbers. Many private unions still push for boosting the minimum wage, for instance, which Republican politicians would find it difficult to sign on to. Moreover, the efforts of Republicans in some states—notably, Michigan and Indiana—to pass right-to-work laws have muted any enthusiasm that labor groups might have developed for the GOP in those locales. The real impact will be felt on the Democratic side: already, an increasing number of Democratic officials have started to challenge the government-union orthodoxy by promoting school reform and working to restrain worker pay and pensions. Now private unions are forcing Democrats to consider their positions on other issues—most especially, on environmentally driven restraints on growth, centralization of government power, regulation, and higher taxes. Private-union leaders were wary of government labor groups in the early days of public-sector organizing, and they have maintained an uneasy alliance with them ever since. But rarely have the interests of the two groups appeared so at odds as they do now.