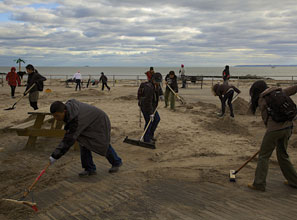 The storm that tore up New York's coastlines on Monday, October 29, was no longer a hurricane when it hit land, but a weaker post-tropical cyclone. Nor did Superstorm Sandy, as it came to be called, directly hit the city; it made landfall more than 100 miles south, near Atlantic City, New Jersey. Sandy "wasn't the big one," says Nicholas K. Coch, a professor of sedimentology and coastal geology at Queens College.
But it was big enough. As New York City mayor Michael Bloomberg pointed out, Sandy "coincided with a full moon and a high tide, and it collided with a second weather front that made it take a hard left turn." That turn positioned Sandy just south of New York, so that its counterclockwise winds "drove the water right towards New York City." Sandy killed 43 city residents, caused tens of billions of dollars' worth of damage, and will probably reduce New York's gross city product (a local version of GDP) by nearly a percentage point. For months after the storm, parts of lower Manhattan, the Rockaways in Queens, Coney Island in Brooklyn, and Staten Island have remained disaster areas.
Nearly a month after Sandy hit, New York governor Andrew Cuomo created three blue-ribbon commissions to analyze the state's response and recommend long-term investments for future "major weather events." Bloomberg, for his part, said in early December that city officials would develop a "specific and comprehensive action plan" to confront storms in the future. The conclusion that all these groups should draw is now evident: the institutions that worked well before Sandy worked well afterward; those that didn't failed the test. And the biggest challenges, as New York works to protect itself from major storms, will be political and fiscal, not technical. For all Cuomo's musing about how "it's going to be a rethinking, redesign of how we protect this metropolitan area," what really needs rethinking is the state and local politics that have created dysfunctional agencies and funded them nonsensically.
One of the institutions that responded well to Sandy was the state-run Metropolitan Transportation Authority (MTA), which manages subways, commuter rail, and the Brooklyn Battery and Queens Midtown Tunnels into Manhattan. The first good decision that the MTA made was to shut its system down early, the evening before Sandy hit, after giving people fair warning that if they didn't evacuate now, they'd have to do so without the aid of subways and buses. The MTA's shutdown allowed it to move trains and buses to high ground and to remove sensitive equipment from tunnels, protecting it from the corrosive saltwater that flowed in later. The decision may sound like common sense. But on the other side of the Hudson, New Jersey Transit didn't display much of it, leaving its trains to flood in low-lying Hoboken.
The MTA's second good decision was to restore service quickly. By Tuesday evening, even as car and subway tunnels remained flooded, bus drivers were picking up customers in all five boroughs on their normal routes. By Thursday, caravans of buses had replaced out-of-service subway trains. As MTA chairman Joe Lhota, who has since quit to eye a mayoral run, told a congressional panel in Washington in early December, "For three days, we had to improvise. We used 330 buses from our existing bus fleet to replace service for the 1.4 million customers who commute from Brooklyn to Manhattan every day." That jury-rigged service, limited as it was, was critical for volunteers to help those endangered by the storm. It also minimized the number of days that New Yorkers missed from work.
Likewise, the city's fire, police, sanitation, and parks departments performed admirably. These crucial Gotham departments function well on a good day, and they did so on a bad day. Dominic Recchia, who represents Coney Island on the city council, quoted a federal official as saying that "it was his 23rd disaster and he had never seen such a good local response." Residents praised the sanitation department, in particular. Its efficient removal of debris let people gut their flooded homes quickly and start to move on with their lives.
Another organization that shone after the storm was the Queens Library, a nonprofit funded mostly by the city government and one of the borough's bedrock cultural institutions. Far Rockaway was one of many city neighborhoods that lost power during the storm. Over the next few days, as its residents started venturing from their cold, dark homes to look for information, they instinctively walked to the library's modest, low-slung local branch. "People were congregating around the doors," says Sharon Anderson, the branch manager. Observing the need for a communal space, Anderson opened the library on Saturday, though it lacked power and heat. "We worked by daylight," six or seven hours a day, said Anderson. The following week, "a man from Long Island" donated a generator, extending the library's hours.
The library served a critical function for weeks. People flocked there for heat, warmth, and companionship before having to return to their frozen houses. As Anderson notes, people too intimidated to go to an official city shelter, where they might have had to mingle with hundreds of strangers, could spend their days in a safe place with familiar faces and working toilets. Residents could charge their cell phones from the library's generator and use the library's computers to try to contact the Long Island Power Authority (LIPA), which provides power to that part of Queens.
The library also became a distribution point for donated goods. Anderson can't begin to estimate how much food, baby formula, water, diapers, cleaning supplies, and cold-weather clothing arrived at the branch, which then gave them to residents—who, in turn, carried them to their homebound neighbors. Organized groups, including churches and synagogues—some just blocks away, others as distant as Rhode Island—brought dry goods. Anderson especially praises New York Cares, which brought 2,000 brand-new coats for residents in icy apartments. Freelance volunteers did just as much as organized groups, showing up alone or in small groups with what they thought the Rockaways needed. "We got a U-Haul of supplies from a man in the Bronx," says Anderson. "We don't know how some people found us." Volunteers also pitched in at the library, serving a Thanksgiving meal to 400 people there and reading to kids with no school to attend.
Other branches of the Queens Library in the Rockaways, though their buildings remain too damaged to reopen, are operating nevertheless. The Arverne neighborhood branch is running a makeshift library out of heated trailers next to the building. At another badly damaged branch, Peninsula, workers are manning a bus full of books. The successful response to the storm was no surprise. "We are just doing what we normally do," says Anderson. All year round, the libraries offer dignity and quiet to poorer people, from teenagers to seniors—in contrast to the managers of their apartment buildings, schools, and social services, who often treat them as drones whose main task in life is to navigate bureaucracy.
That contrast was on display just blocks from Anderson's branch, at a makeshift relief center established by the Federal Emergency Management Agency (FEMA). After offering people cleaning supplies to help them scrub debris from their basements and first floors, the agency unaccountably made them stand in line in the cold, rather than inviting them inside or distributing the supplies quickly outside. One person in line, Sabrina, hoped to protect herself and her husband's two young children from mold; she wasn't sure how long she would wait before trudging home.
Two local government agencies earned their notoriety after Sandy: the state-run LIPA, which electrifies not just the Rockaways but Nassau and Suffolk Counties, outside city limits; and the city-run New York City Housing Authority (NYCHA). Once again, their performance shouldn't have been a surprise: these institutions have been failing for decades.
After the storm passed, LIPA gave only the roughest estimates of when 1.1 million customers would regain power. More than a week later, 180,000 people were still in the dark and the cold, with customers so frustrated that some were banging on the locked doors of LIPA's headquarters in Hicksville, Long Island. LIPA had made its work harder through its pre-storm inaction. It hadn't adequately pruned trees, meaning that too many branches fell on aboveground power lines. It had also failed to invest in computer systems that would make it possible, post-Sandy, for customers to contact it effectively and for its workers to communicate with one another.
When state politicians launched LIPA two and a half decades ago, their goal was to generate political benefits, not electricity. In the mid-1980s, the private Long Island Light Company (LILCO) was in financial distress because it had built a nuclear power plant that the state kept it from opening. So Governor Mario Cuomo, father of the current governor, created the state-run LIPA to buy LILCO. With the blessing of Cuomo and of his successor, George Pataki, LIPA paid $4.2 billion more than LILCO was worth. Pataki compounded the problem in the mid-1990s, approving a deal that allowed Suffolk County to repay only a portion of the $1.4 billion that it had overcharged the power utility for decades in property taxes, and to do so over many years. A LIPA that was shouldering bailout debt and an unfair tax load was not going to invest in a resilient system before Sandy. Nor has the utility, long a home for patronage appointees, benefited from stellar management.
Similarly, the post-Sandy failures of NYCHA were predictable. Sandy knocked out power and heat in 400 buildings in housing projects, mostly in the Rockaways, on Coney Island, and in Red Hook, a Brooklyn neighborhood. As the November cold set in, power outages—in some cases, lasting nearly three weeks—endangered 35,000 households. Not only had NYCHA officials lacked the foresight to procure temporary generators and boilers to replace their flood-ruined basement equipment; they offered no reliable guidance about when power would be back.
But then, the housing authority, in chronic deficit, struggles on a good day. "The 400,000 residents of the city's 334 developments . . . must wait for months—and sometimes years—for basic repairs to their apartments," the New York Daily News reported in an investigative series this past summer. For example, the authority dithered over installing security cameras in common areas and hoarded spare parts and supplies even as residents lived in nearly uninhabitable housing. An agency that can take two years to remove mold from a ceiling was unlikely to be prepared for the storm of the century.
Some events that looked like post-Sandy government failures actually weren't. A case in point was the blackout that hit the east side of lower Manhattan. Con Edison, which powers most of the city, had long known that two of its networks serving the low-lying tip of the island were vulnerable to flooding. As Sandy's waters lapped over the bulkheads protecting the networks, engineers shut the two systems down, just as the company had warned that it might have to do. Con Ed didn't want saltwater to contact "an energized system," says John Miksad, Con Ed's senior vice president of electric operations. A powered-up grid inundated with saltwater could "fail violently" and spark fires—not only on Con Ed's own property but in flooded office towers and high-rise apartment buildings that use Con Ed power.
The rest of lower Manhattan, from downtown to Chelsea, also lacked power until the weekend. That part of the blackout, true, was unplanned, but it wasn't an uncontrolled catastrophe. On Manhattan's east side, Con Ed has a substation protected by a 12 1/2 -foot flood wall, high enough to withstand the highest waters previously recorded (in 1821); Sandy's waters exceeded 14 feet, so the power went out. Con Ed spent the rest of the week pumping, drying, and replacing its equipment—and power returned.
Many who live in a first-world city that generally runs well have a tough time understanding that everything isn't guaranteed to work all the time. That the Manhattan outage shocked them shows only how they take reliable power for granted. Perhaps they do so for good reason: before Sandy, Manhattan hadn't suffered a mass-scale power outage in nearly a decade, and the last one, in 2003, resulted from a freak incident far out of state.
New York's biggest failure wasn't governmental but personal: coastal residents' refusal to evacuate. Of the 375,000 residents in the city's "Zone A," areas hard by the water and easily flooded, few left before Sandy hit. The night of the storm, only 6,100 people, under 2 percent of the total, slept in the 72 public shelters that Mayor Bloomberg had opened and publicized on television. Others stayed with friends or relatives elsewhere, but most stayed put. "Almost 130,000 people live on the peninsula here but despite the warnings, it feels like few are leaving," Bob Hardt, the political director for the local TV station NY1, blogged from the Rockaways.
People had plenty of warning. The Friday before Sandy, in his first public comments on the impending storm, the mayor told Zone A residents that it was too soon to know whether they would have to leave, but that they should be ready. Two days later, on Sunday, he issued an evacuation order, opening the shelters for people who had nowhere else to go. "You should leave this afternoon," he said. "Let me stress: if you don't evacuate . . . you're not just putting your own life in danger. You are endangering the lives of first responders who may have to come in and rescue you." Bloomberg was right. After Sandy, the 911 system and first responders were overwhelmed with calls from people who had declined to evacuate beforehand.
New York can learn from what happened. For starters, city government should understand that many people who refused to evacuate had good reasons for their decisions. As Anderson of the Queens Library noted, some residents, particularly the single, elderly New Yorkers who made up a disproportionate number of Sandy's dead, were afraid to sleep in mass shelters. Others refused to evacuate because they wanted to protect their property from looting. Others stayed in place long after the storm had passed because they preferred the cold and the dark to a low-rent motel or sleeping on a friend's floor for a month. The prospect of traveling hundreds of miles to find adequate housing outside New York for weeks on end was also daunting.
The Bloomberg administration, for all its talk about the importance of evacuation, performed the same cost-benefit analysis on a larger scale. Even as the mayor was telling residents to evacuate, he was telling the administrators of hospitals and nursing homes in Zone A to keep fragile patients in place. At Coney Island Hospital on Brooklyn's Ocean Parkway, executive director Arthur Wagner performed a sort of pre-storm triage, discharging or evacuating only stable patients, including those who depended on electric-powered ventilators to breathe. Wagner also made sure that hospitals on higher ground could accept his patients after the storm if necessary. When the hospital lost power, the staff ran unstable patients' ventilators on batteries until they could be transported out by daylight. It's hard to second-guess those decisions. Moving an unstable patient because of a storm—which may change course at the last minute, after all—carries its own risk.
So when future storms threaten, the city should be more understanding when it tells people to flee. It could set up seniors-only and families-only shelters, for example, so that vulnerable people feel less afraid to leave their homes. Architects could compete to find ways of providing privacy in shelters, perhaps designing pods that could be stored elsewhere and unfolded quickly in a school gymnasium when needed. Doctors and nurses could ask homebound patients on regular visits if they've planned for evacuation in an emergency.
The fact remains, though, that many will probably refuse to flee storms in the future. Perhaps those who live in one-story houses on the beach have learned their lesson, but high-rise residents are likelier to stay put. Residents of housing projects may be even more frightened of leaving, since they know that bureaucrats may not let them back in for weeks or months. Even homeowners and private renters who do evacuate may return before the power and heat are back on, in order to deter looting—something that police officers, even with military backup, can never fully prevent in darkened neighborhoods.
The good news on this score is that the next time a major storm endangers the city, more people will know to have more than a couple of days' worth of food and medicine on hand, as well as warm blankets and bathtubs full of water with which to flush toilets. Similarly, the volunteers and (later) city officials who brought food, water, and medicine to stranded New Yorkers have learned something. They need to act faster; this time around, the government, in particular, waited more than a week. And seniors' groups, hospitals, tenants' associations, and other private organizations need to have lists of homebound New Yorkers well before a storm hits, so that volunteers carrying supplies know where to go.
As fall turned to winter, New York started to focus on what Governor Cuomo called "prevention and mitigation": how to protect the city from future storms. As Bloomberg put it, "we have to reexamine all of our major infrastructure in light of Sandy—and how we can adapt and modernize it in order to protect it." New Yorkers have heard about everything from inflatable bladders to protect subway tunnels to a ring of steel seawalls around the entire city to keep water out. But all the fancy talk boils down to two simple questions: How much are New Yorkers willing to pay? And is the benefit worth the cost?
Jeroen Aerts, a professor of risk management at the Institute for Environmental Studies in Amsterdam, explains how we could go all-out. For $15 billion to $17 billion, he says, New York could build a surge-barrier system to protect most of its 520 miles of coastline, with seawalls surrounding most of the city and movable gates at the entrances to major waterways. Aerts figures that the city could protect economically critical areas, such as lower Manhattan, within two or three years, and much of the rest of the city over the following decade.
Such a system may sound like a no-brainer, despite its cost, since Sandy itself certainly did tens of billions of dollars' worth of damage. But the proposal is far more complicated than it seems. First, as Aerts forthrightly notes, building seawalls would disrupt coastal marshes, including Jamaica Bay, which give some natural protection against storm surges. The more the city loses these kinds of natural barriers, the more it must spend to build artificial barriers. Second, the system's annual maintenance cost would equal 10 percent of its original construction cost. Third, protecting one part of the city would actually endanger other parts: "Close the barrier and you do have water levels a foot higher than normal" on the unprotected side, says Aerts. If a surge-barrier system takes a decade to build, will any mayor start by protecting lower Manhattan at the expense of vote-rich coastal Brooklyn and Queens?
Nicholas Coch, the Queens College professor, is skeptical of a massively expensive flood-wall project, since politicians may defer its annual maintenance in favor of more pressing calls for limited cash. He suggests another approach: "hardening" critical assets in dense areas of the city. Coch would flood-proof subway and transportation tunnels with steel gates and elevate lower areas of highways to eliminate flooding. He'd also require hospitals and private buildings to relocate their backup fuel and power systems, elevating them higher than flood levels.
Much of this asset-hardening will probably happen on its own. Owners of commercial buildings downtown won't command premium rents if tenants worry about getting locked out for weeks or months, as happened this time around. And owners are unlikely to be able to renew their business-interruption insurance—which compensates them for the rent that they miss while their buildings are dark—unless they can demonstrate to their insurers that they've taken steps to prevent a recurrence. In older buildings with lower rents, though, elevating power systems may not be worth the investment. Not only is the undertaking expensive; it permanently removes space that could otherwise be rented. In public housing, the cost problem is even starker. Fortifying electrical systems at the city's housing projects would probably cost hundreds of millions of taxpayer dollars.
Local government agencies will also have to weigh costs against benefits. Con Ed estimates that it would cost $800 million to fortify its ten most vulnerable substations against flooding. The expense is probably worth it—but the city can tip the scales by requiring building owners to elevate their own power infrastructure, as Coch recommends. Otherwise, the utility would still have to shut off power during a flood to prevent fires from igniting within individual buildings.
Outside Manhattan, Con Ed and LIPA could limit power outages by burying wires underground, as Con Ed has already done in Manhattan. Con Ed estimates that it would cost $60 billion to bury power, cable, and telephone wires—which share poles with one another—throughout New York City and Westchester. The electric wires would represent $38 billion to $40 billion of that cost. To put things in perspective, realize that Con Ed's existing power assets are worth about $15 billion. The question is simple: Do Con Ed's customers want to see their monthly bills rise by about two-thirds to reduce, though not eliminate, the risk of power failure? In the areas that LIPA powers, the question is different: Is Cuomo willing to privatize LIPA and have the state assume its legacy of toxic debt so that the company can focus on electric power instead of politics and patronage? There's no other way that LIPA could afford to put electric wires underground.
At the MTA, too, money is finite. After Sandy, the transit authority put out a wish list of "specific concepts for MTA asset hardening." The list—which, officials said, was "not exhaustive and not prioritized" and which carried no price tag—included building floodgates to protect tunnels, insulating signal equipment, and buying more generators and pump trains for faster recovery after a storm. But even before Sandy, the MTA was struggling to find money for its five-year, $24.3 billion capital-investment budget. Can a state agency that has a tough time accommodating its growing customer base really protect itself against catastrophic flooding? Further, the MTA's long history of cost overruns on capital projects is an ominous sign as it fiddles with new flood-proofing technology.
Despite Governor Cuomo's attempts to wring as much money as he can from Washington for storm repair and prevention, federal funding won't be enough to indemnify New York fully against future hurricanes. It follows that Cuomo—along with Mayor Bloomberg and his would-be successors—must ask themselves: How much is protecting New Yorkers from storm surges worth? Is it worth getting a handle on New York's public-employee costs, so that local and state governments, spending less money on union contracts, can spend more on infrastructure? Is it worth investigating why MTA capital projects cost so much and take so long?
That leads to the real lesson to draw from the superstorm. Sandy and its aftermath weren't departures from workaday concerns. They were simply another manifestation—a deadly one—of the problems that plague New York every day.
Research for this article was supported by the Brunie Fund for New York Journalism.