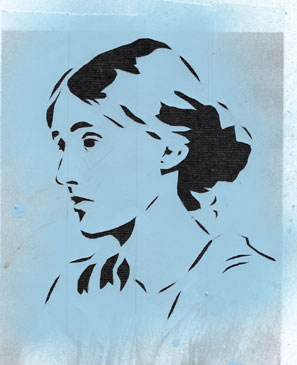 Adeline: A Novel of Virginia Woolf, by Norah Vincent (Houghton Mifflin Harcourt, 288 pp., $23)
In late March, 1941, Virginia Woolf went for a walk near her Sussex home. Her body was pulled out of the River Ouse three weeks later. She had struggled with mental illness for years, but protected by her husband, publisher Leonard Woolf, and her sister Vanessa, she had managed to produce some of the most original novels of the twentieth century. So what led her to the river's banks with a heavy stone in her pocket?
In her new novel, Adeline, Norah Vincent attempts an answer. Her fictional Woolf is alternately light and dark, laughing with friends and brooding over her prose. Through it all, she grapples with the voices in her head and the personification of her adolescent self, Adeline (Woolf's given name). In conversation, Woolf and Adeline conjure up painful memories. They also hash out the images that become some of Woolf's most enduring. This Adeline is "the girl that she once was, the bright Victorian girl shut behind dark paneled doors . . . . She is the girl stopped in time who could not speak or feel at the side of her dead mother's bed. She keeps the cold, clear information of those days, unclouded by revision or the lies of age. She is there still, communicating, conjured by this strange Virginia, who is the woman she did not become."
Through various episodes in Woolf's life, Vincent explores the wonder and terror of this version of the creative process, experienced by someone with a tenuous grip on reality. The fictional Leonard recalls of his wife: "She'd said that perhaps every writer is meant to express only one idea, one mood, one version of what this strange human experience is about, and that he spends his life and work repeating it over and over again. If he is fortunate, once or twice he gets it absolutely right. He delivers his single given message more purely, more uniquely than any other writer ever has or ever will. But the once or twice is usually all he gets." Over the years, Woolf comes to see that she had this clarity in the middle of her career, the crest of her genius coming with Mrs. Dalloway, To the Lighthouse, and The Waves, and that the rest was "just an echo, the congenital compulsion wearing itself out."
She battles to keep her mental illness in check enough to work, but over time she comes to see her own artistic limitations and wearies of the fight. The larger world starts to fall apart, too. Vincent vividly recreates the dark days of 1941. France had fallen to the Nazis, and London was being bombed nightly. Like many people, the Woolfs assumed a German invasion was imminent. Leonard was Jewish; he and Virginia had discussed plans to commit suicide rather than go to concentration camps.
Of course, discussing suicide with a mentally ill person is a questionable strategy. Woolf elected to go ahead and make her own plans. Vincent imagines what Woolf was thinking in those final moments: that in her late years she was "not a craftsman anymore, but a tradesman," and that "she had churned out the riskless product in her later years, varnished, hidebound and safe as bloody houses." Heeding the voice of Adeline, she stuffs the stone in her pocket and wades into the river.
Though Vincent's prose is sometimes ornate as she tries to imitate Woolf ("She looks up at the facing wall where a lozenge of nacreous light displays the shadow of a breeze-blown branch trembling"), it can also be lyrical. Some moments hit home because they reflect an understanding that one author has for another: Woolf, Vincent writes, likes to pull To the Lighthouse off the shelf, simply to read those magical words and know that she wrote them. Vincent depicts the characters of the Bloomsbury Group with all their bizarre rivalries and behaviors. The drunken Vivienne Eliot sends Woolf into a tailspin with her insults. Woolf and Lytton Strachey parry back and forth about her dysfunctional sex life. She is deeply in love with Leonard and yet never quite consummates the marriage, though her affair with noblewoman Vita Sackville-West doesn't come to much, either. She is always betwixt and between, not quite comfortable in this world, which explains her desire to leave it.
Vincent's desire to hew to the biographical facts of Woolf's life results in some puzzling choices. Woolf is a compelling character, but she is also a real person, and Adeline, like Michael Cunningham's The Hours, tries to borrow some of her literary prestige in paying her homage. It's not an achievement quite on par with coming up with an original character.
Yet Adeline is a moving novel all the same, a portrait of what it means to be brilliant and tormented. Understanding Woolf's darkness is as difficult as understanding some of her work, but Vincent rises to the challenge, creating something beautiful in the process.