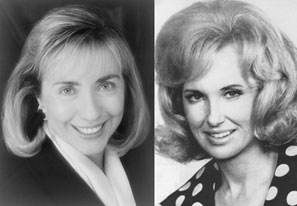 As Hillary Clinton again undertakes a run for the presidency, it might be a good time to apologize—not for her decision to delete State Department e-mails, but for one of the first public statements she made on the national stage.
In 1992, as charges first emerged about her husband's alleged extra-marital affairs, both Clintons appeared together on CBS's 60 Minutes. Their goal? To defend Bill and to assert Hillary's independence. She told interviewer Steve Kroft, "I'm not sitting here some little woman standing by my man like Tammy Wynette. I'm sitting here because I love him and I respect him."
It's certainly true that the late country singer Tammy Wynette was best known for her mega-hit "Stand by Your Man." But Hillary's statement was wrong on two counts. In her own life, the thrice-married, twice-divorced Wynette actually did not stand by her men. Hillary, by any measure, has. In fact, Wynette might be considered a paragon of feminist courage and independence, while Hillary, to win the White House, will have to prove that she has what it takes to accomplish great things on her own.
Here's some of what Hillary apparently didn't know about the life of Tammy Wynette. From a start picking cotton on her grandfather's farm in Itawamba County, Mississippi, Virgina Wynette Pugh rose to become the acknowledged First Lady of country music even before she ended up marrying its king, George Jones. Married as a teenager, she overcame a divorce from her often-unemployed, construction-worker husband to raise three children on her own. To do so, she earned a beautician's license and worked as a hairdresser, all while singing at night in clubs. Even after becoming a star she kept the license up to date, lest her luck run out.
Success came for Wynette only after she quit her job and, without securing a place to live for herself and her children, moved to Nashville to pursue what country star Alan Jackson once described as "that neon rainbow" of music stardom. Her big break came in an audition with legendary Nashville producer Billy Sherrill. Sherrill understood Wynette's capacity to transmit a breathtaking depth of emotion. If, like Hillary, you're too quick to conclude that Wynette doesn't understand both the bitter and the sweet, listen to the brilliant "The Ways to Love a Man." You might change your mind.
It's beyond doubt that the combined themes of hard times and personal risk informed a song style that deeply moved Wynette's audience—and conveyed genuineness that Hillary can only wish she could project. Sincerity requires emotional honesty.
One way Clinton could start, however, to make amends for her insult to Wynette—and probably boost her electoral prospects—would be to travel to Tremont, Mississippi. The tiny town (population 390) is working, with modest support from the state government, to build a museum honoring its hometown girl. Perhaps the Bill, Hillary, and Chelsea Clinton Foundation might add some support of its own.
If she were to speak in Tremont, Hillary might want to recall the actual lyrics of "Stand by Your Man." She just might recognize herself:
Sometimes it's hard to be a woman
Giving all your love to just one man
You'll have bad times, and he'll have good times
Doin' things that you don't understand
But if you love him, you'll forgive him
Even though he's hard to understand
And if you love him, oh be proud of him
'Cause after all he's just a man.